Canada Crypto Regulation & Compliance History: A Brief Overview
Crypto regulation has been a hotly debated topic in many countries around the world, including Canada. In this blog post, we'll explore the history of crypto regulation in Canada, including the various regulatory frameworks that have been put in place and the events that have led to the current regulatory landscape.
The Early Days of Crypto Regulation in Canada
Canada's first official stance on cryptocurrency came in 2014, when the country's central bank, the Bank of Canada, issued a report titled "Understanding Platform-Based Digital Currencies". The report provided an overview of digital currencies, including Bitcoin, and examined the potential benefits and risks of these currencies such as Facebook Credits and Amazon Coins.
Also in 2014, the Canadian government made its first attempt to regulate cryptocurrencies by amending its Anti-Money Laundering and Anti-Terrorist Financing Regulations to include "virtual currencies".

A virtual currency is a medium of exchange that allows for value to be held and exchanged in an electronic, non-physical manner, is not a fiat currency (i.e. the official currency of a country), has the intended purpose of being exchanged for real and virtual goods and services, and allows peer-to-peer transfers. [Source]
This move brought cryptocurrency exchanges and other businesses that deal with digital currencies under the jurisdiction of the Financial Transactions and Reports Analysis Centre of Canada (FINTRAC), the country's financial intelligence agency.
Despite this, there was still a lack of clear regulatory guidance for the cryptocurrency industry in Canada. As a result, many cryptocurrency exchanges and businesses either operated in a gray area or chose to move their operations to other countries with more favorable regulatory environments.
The QuadrigaCX Scandal and its Impact on Crypto Regulation in Canada
In late 2018, QuadrigaCX, one of Canada's largest cryptocurrency exchanges, filed for bankruptcy after the sudden death of its CEO, Gerald Cotten. The scandal was reported globally and even had a documentary released on Netflix . The exchange claimed that Cotten had been the sole holder of the company's private keys, which are necessary to access the funds stored in its hot wallet. As a result, the exchange was unable to access $190 million worth of digital assets belonging to its customers.
The case drew widespread attention and scrutiny from both the public and regulators. It raised questions about the security and stability of cryptocurrency exchanges, and highlighted the need for greater regulatory oversight.
One of the most significant impacts of the QuadrigaCX scandal on Canadian crypto regulation was the introduction of new rules requiring cryptocurrency exchanges to register with regulators if they held both the user's money and digital assets while facilitating trades.
The Financial Consumer Agency of Canada (FCAC) announced new guidance for cryptocurrency exchanges in June 2019, stating that any exchange that holds a user's digital assets or funds must register with regulators, regardless of whether the exchange is based in Canada or elsewhere. The guidance clarified that a "delay in delivery" of virtual assets would trigger registration requirements.
The Current State of Crypto Regulation in Canada
In 2018, the Canadian government introduced a more comprehensive regulatory framework for cryptocurrency exchanges and other businesses. Known as the "Virtual Currency Regulation", it required all cryptocurrency exchanges and businesses to register with FINTRAC and comply with strict anti-money laundering and counter-terrorism financing regulations.
Additionally, in 2021, the Canadian Securities Administrators (CSA) and Investment Industry Regulatory Organization of Canada (IIROC) released new guidance for cryptocurrency trading platforms, which clarified the rules around securities regulations for crypto assets. The guidance stated that platforms that allow users to trade securities tokens, such as security tokens or tokenized derivatives, must be registered with their provincial securities regulators.
In conclusion, the history of crypto regulation in Canada has been characterized by a gradual shift towards greater regulatory oversight. While there have been some criticisms of the current regulatory framework, it has been largely successful in creating a more legitimate and secure industry. With the continued evolution of cryptocurrency and the ever-changing regulatory landscape, it will be interesting to see how Canadian regulators continue to adapt and evolve in the years to come - especially given the Bank of Canada's research into CBDCs!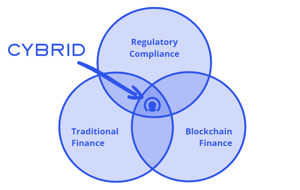 At Cybrid, we believe that regulation and compliance are essential ingredients for building a stable and secure crypto industry in Canada. As this blog post has shown, the country has made significant strides in creating a more legitimate and secure crypto environment through the introduction of comprehensive regulatory frameworks and guidelines. By embracing regulation and compliance, we can help to build trust and credibility with customers, while also reducing the risks associated with digital currencies. That's why we're excited to extend Canada's reputation as a stable financial system to the world of virtual currencies/cryptocurrencies. If you're interested in launching compliant crypto products, we invite you to sign up for our 3-step guide by clicking below. Together, we can help to build a stronger, more secure crypto industry in Canada and around the world!