Crypto Banking as a Service for Fintechs & Web3 companies
In today's digital era of Embedded Finance, businesses and developers are continuously seeking innovative solutions to adapt to the ever-evolving landscape of technology. Crypto banking has emerged as a powerful tool to cater to the needs of web3 companies and modern businesses.
This post will delve into the world of crypto banking infrastructure, including essential features such as linking and transferring to/from bank accounts, FBO accounts on the platform, and seamless on and off-ramps. Moreover, we will explore how Cybrid can help you solve the technical and compliance complexities associated with crypto banking.
Connected Banking For the Benefit-Of Everyone Involved
In the world of crypto banking, one of the key factors that determine the success of a platform is the ease and security with which end-users can fund and hold fiat currencies. Connected banking plays a pivotal role in bridging the gap between traditional banking systems and the crypto ecosystem, offering a seamless experience for businesses and their clients.
Easy Funding of Fiat: Connected banking allows end-users to conveniently fund their accounts with fiat currencies through various payment methods, such as wire transfers and ACH transfers. By integrating connected banking services into your platform, you can provide your users with a hassle-free process for depositing funds and participating in the crypto market.

Secure Holding of Fiat: Security is paramount in the crypto banking space, and connected banking ensures that users' fiat holdings are safeguarded from potential threats. By partnering with regulated and crypto-friendly banks that utilize FBO accounts, platforms can provide secure and compliant storage for users' fiat funds. This ensures that clients can confidently engage with your platform, knowing their assets are well-protected.

Seamless Withdrawals: Connected banking not only simplifies the funding process but also streamlines withdrawals, allowing users to easily convert their crypto holdings back into fiat and transfer them to their preferred connected bank accounts. This seamless process fosters trust in your platform and mitigates loss in funds resulting in fraud.

By integrating Cybrid's connected banking solution, businesses can simplify the process of funding and holding fiat currencies, ensuring a seamless and secure experience for their clients.
Crypto Wallet as a Service and Crypto Custody
A Crypto Wallet as a Service (WaaS) is a cutting-edge solution designed to simplify the management and storage of cryptocurrencies for businesses and developers. WaaS platforms provide a secure and accessible environment for businesses to integrate crypto wallet functionality into their existing infrastructure, offering a range of benefits and features.
Enhanced Security: WaaS platforms prioritize the security of digital assets by employing advanced encryption techniques, multi-signature wallets, and regular security audits. These measures ensure that your users' cryptocurrencies are stored safely and protected from potential threats.

Scalability: As your business grows, so does the need for a scalable wallet solution that can accommodate an increasing number of users and transactions. WaaS platforms offer scalable infrastructure, allowing businesses to seamlessly expand their crypto wallet offerings without compromising performance or security.

Simplified Integration: WaaS platforms enable businesses to integrate crypto wallet functionality effortlessly into their existing systems through well-documented APIs and SDKs. This streamlined approach reduces development time and costs, allowing businesses to focus on their core offerings.

Multi-Currency Support: A robust WaaS platform supports multiple cryptocurrencies, ensuring that businesses can cater to the diverse preferences of their user base. This multi-currency support, like USDC to USD and USDC to IKR, enables businesses to capitalize on the growing popularity of various digital assets, providing a competitive edge in the crypto banking space.

User-Friendly Interface: WaaS platforms prioritize user experience, offering a simple and intuitive interface for both businesses and their customers. This user-friendly design ensures that users can manage their digital assets effortlessly, driving adoption and satisfaction.
Want to learn more about custody options? Read our post on wallet types.
Cybrid offers a powerful Wallet as a Service solution that addresses the unique challenges faced by businesses looking to integrate crypto wallet functionality. With Cybrid's WaaS platform, businesses can benefit from enhanced security measures, scalable infrastructure, and seamless integration, empowering them to offer a comprehensive and user-friendly crypto wallet experience to their customers. By leveraging Cybrid's advanced WaaS platform, businesses can stay ahead in the rapidly evolving world of crypto banking and better serve their users.
On-Off Ramps - Fiat to Crypto & Crypto to Fiat
One of the critical aspects of crypto banking infrastructure is the seamless integration of an on-off ramp crypto service. This functionality facilitates smooth and efficient conversion between fiat currencies and cryptocurrencies, allowing businesses to cater to a broader clientele. A reliable fiat to crypto gateway significantly reduces friction points in the transaction process, ensuring that your business is equipped to handle the needs of web3 companies.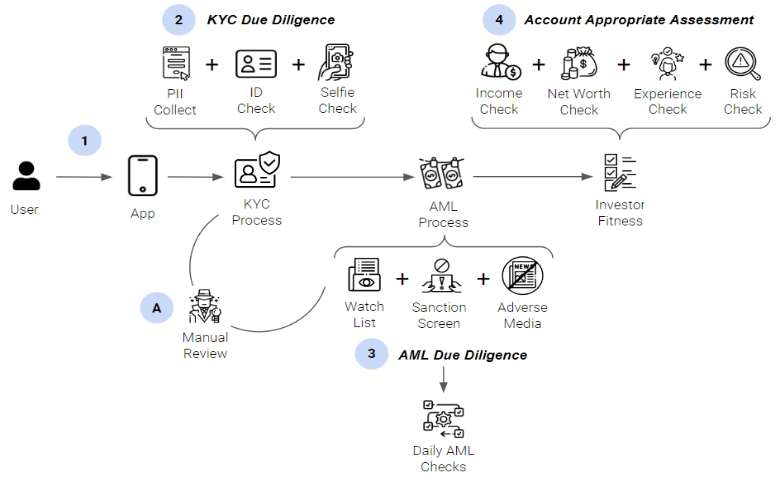 Cybrid stands out in the market with its remarkable onramp and offramp capabilities. It allows users to onramp from 40+ local currencies, making it incredibly convenient for businesses to serve customers worldwide. By supporting such a wide range of currencies, Cybrid enables businesses to reach a global audience and tap into new markets, fostering growth and expansion. This extensive support ensures that businesses can meet the diverse needs of their clientele, regardless of their geographical location.
Moreover, Cybrid's offramp services cater to an even broader range of customers, supporting conversion to 120 different currencies. With this impressive feature, businesses can provide their users with unparalleled flexibility and accessibility, further strengthening their position in the crypto banking space. By leveraging Cybrid's offramp services, businesses can effortlessly convert crypto to fiat currencies, simplifying the process and ensuring a seamless user experience.
Smart Order Router
A smart order router (SOR) is an essential component of any advanced crypto banking platform. It is designed to optimize trade execution by automatically routing orders to the best available market, ensuring optimal pricing and execution speed for clients. The integration of a smart order router in your platform can significantly enhance the overall trading experience, offering numerous benefits and features.
Optimized Trade Execution
A smart order router intelligently selects the best available market for executing a trade by analyzing multiple factors such as price, liquidity, and execution speed. This optimization ensures that clients receive the best possible execution for their orders, maximizing returns and minimizing slippage.
Access to Multiple Liquidity Providers
By integrating a smart order router, businesses can gain access to a wide range of liquidity providers, diversifying their trading options and enhancing their platform's overall liquidity. This increased access allows businesses to cater to various trading needs, ensuring a seamless experience for their clients.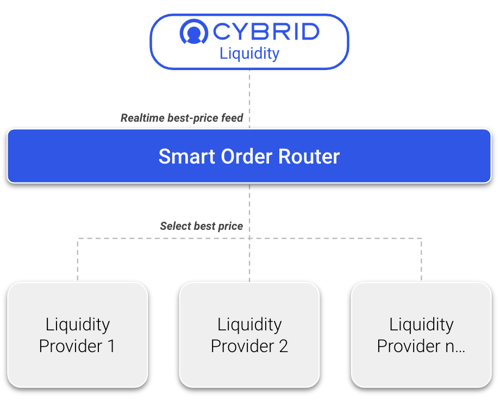 Cybrid simplifies the integration process with multiple liquidity providers by offering a comprehensive smart order router solution. This solution not only ensures the best price execution but also streamlines the process of setting up and maintaining relationships with various liquidity providers.
Simplified Integration: Cybrid's platform allows businesses to connect with multiple liquidity providers through a single API, significantly reducing the complexity of integrating with each provider individually. This streamlined approach saves time and resources, allowing businesses to focus on their core offerings.

Relationship Management: Cybrid's smart order router solution takes care of the relationship management with various liquidity providers. This includes navigating the often complex requirements, such as minimum transaction amounts, and ensuring that your platform remains compliant with each provider's specific guidelines.

Cost-Effective Settlements: Managing daily settlements with multiple liquidity providers can be costly, particularly when wire payments are involved. Cybrid's smart order router solution simplifies this process by consolidating settlements, reducing the costs associated with daily settlements and wire payments down to a simple monthly pricing plan.
Crypto as a Service and Crypto Infrastructure
Crypto as a Service (CaaS) is an innovative solution that offers businesses a suite of tools and services designed to streamline their crypto banking operations. By implementing a robust crypto infrastructure, your business can access a range of functionalities such as crypto offramp and onramp services, crypto savings accounts, and more. These features enable your platform to deliver a comprehensive crypto banking experience that caters to the needs of web3 companies and modern businesses alike.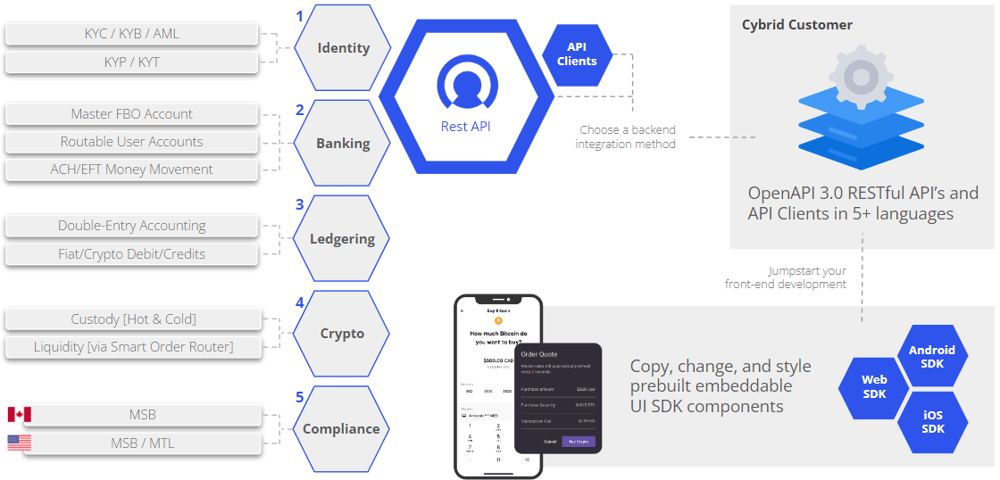 On-Off Ramp API with a Crypto SDK
A robust Crypto SDK (Software Development Kit) is essential for developers looking to build innovative solutions that leverage the power of cryptocurrencies. By integrating a versatile Crypto SDK, developers can seamlessly embed crypto banking infrastructure into their applications, driving growth and innovation in the crypto space. An ideal Crypto SDK should offer comprehensive support for various programming languages and platforms, ensuring compatibility with a diverse range of projects.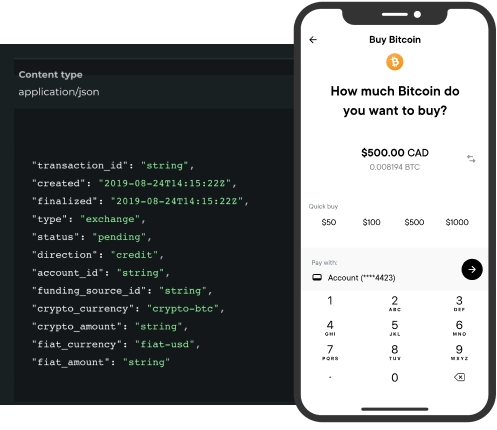 Crypto SDK with Cybrid
API Clients for 5+ Languages: Cybrid's Crypto SDK sets itself apart by offering API clients for 5+ programming languages, including popular options such as Python, Java, JavaScript, Ruby, and more. This extensive support ensures that developers can easily integrate the SDK into their projects, regardless of the programming language they use. By providing compatibility with multiple languages, Cybrid's Crypto SDK enables a broader range of developers to harness the power of crypto banking services.

UI SDK Components for Web, iOS, and Android: In addition to its versatile API clients, Cybrid's Crypto SDK also includes a comprehensive suite of UI components for various platforms such as Web, iOS, and Android. These components are designed to simplify the integration process and ensure a seamless user experience across devices. By offering pre-built, customizable UI components, Cybrid's Crypto SDK allows developers to focus on their core application logic while ensuring that their users enjoy a consistent and intuitive interface.
Circle USDC and Cybrid's Solution
USDC, a popular stablecoin pegged to the US dollar, has become a widely used currency for businesses operating in the crypto space. Circle, Centre, USDC, and Cybrid offer stability, security, and accessibility, making it a preferred choice for businesses looking to integrate crypto banking services.
Cybrid is a comprehensive solution that addresses the technical and compliance complexities associated with crypto banking. By choosing Cybrid, your business can gain access to a suite of tools and services that enable seamless integration of crypto banking infrastructure, including crypto wallet as a service, crypto custody, ramp crypto, and more.