Cybrid vs Sila: A Comparison in Cryptocurrency Banking Services
The financial industry is in the midst of a significant transformation as it continues to integrate cryptocurrencies into existing infrastructures. Platforms like Cybrid and Sila are leading this revolution, especially in the realm of business services. But how do they differ? Let's dive into the comparison.
Proprietary Tokens Vs Decentralized Cryptocurrencies
Sila's platform operates primarily around its proprietary stablecoin, the Sila token. These tokens are pegged to the U.S. dollar and are used for transactions within the Sila platform. The use of a proprietary token ensures stability within the Sila network but limits the ability to interact with the broader crypto market.
On the other hand, Cybrid offers digital wallets that support and operate with many popular coins or tokens. This opens up the ability to participate in the global cryptocurrency market, offering businesses more versatility and potential for growth.
Focused Versatility: Cybrid's Advantage
While Sila offers APIs for identity verification, account linking, and money transfers within its platform, Cybrid takes it a step further. In addition to offering similar services, Cybrid goes beyond by providing businesses the flexibility to integrate crypto and traditional banking services seamlessly. This unique combination empowers businesses to cater to a wider range of customer needs.
Cybrid stands out by offering Software Development Kits (SDKs) for APIs in seven languages and UI components for Web, Android, and iOS. These tools empower developers to create a broad array of functionalities, providing businesses the freedom to innovate and tailor their services, as well as one of the easiest way to ramp crypto.
In contrast, Sila offers a variety of APIs but does not provide the same depth of developer tools as Cybrid.
Geographic Focus and Compliance
Cybrid's primary market is North America, boasting MSB registration in Canada and the U.S., and access to Money Transmitter Licenses in all states, thus ensuring compliance and reliability.
In contrast, Sila is focused on the U.S. market and operates under U.S. jurisdiction, which may limit its appeal to businesses operating internationally.
The Choice: Cybrid's Comprehensive Solution
Choosing between Cybrid and Sila comes down to the needs and vision of your business. If your goal is to engage with the broader crypto market while having the ability to provide a comprehensive banking experience, Cybrid's versatile offerings make it the ideal choice.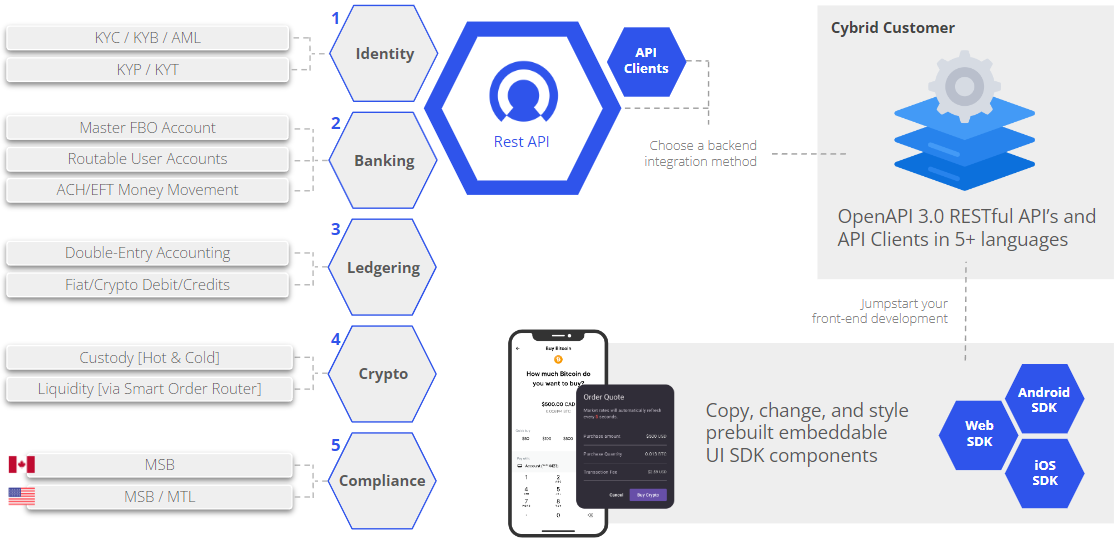 Explore the power of Cybrid's superior business solutions today. Together, let's redefine the future of finance.