Utilize USDC with Turnkey Crypto & Fiat FBO Accounts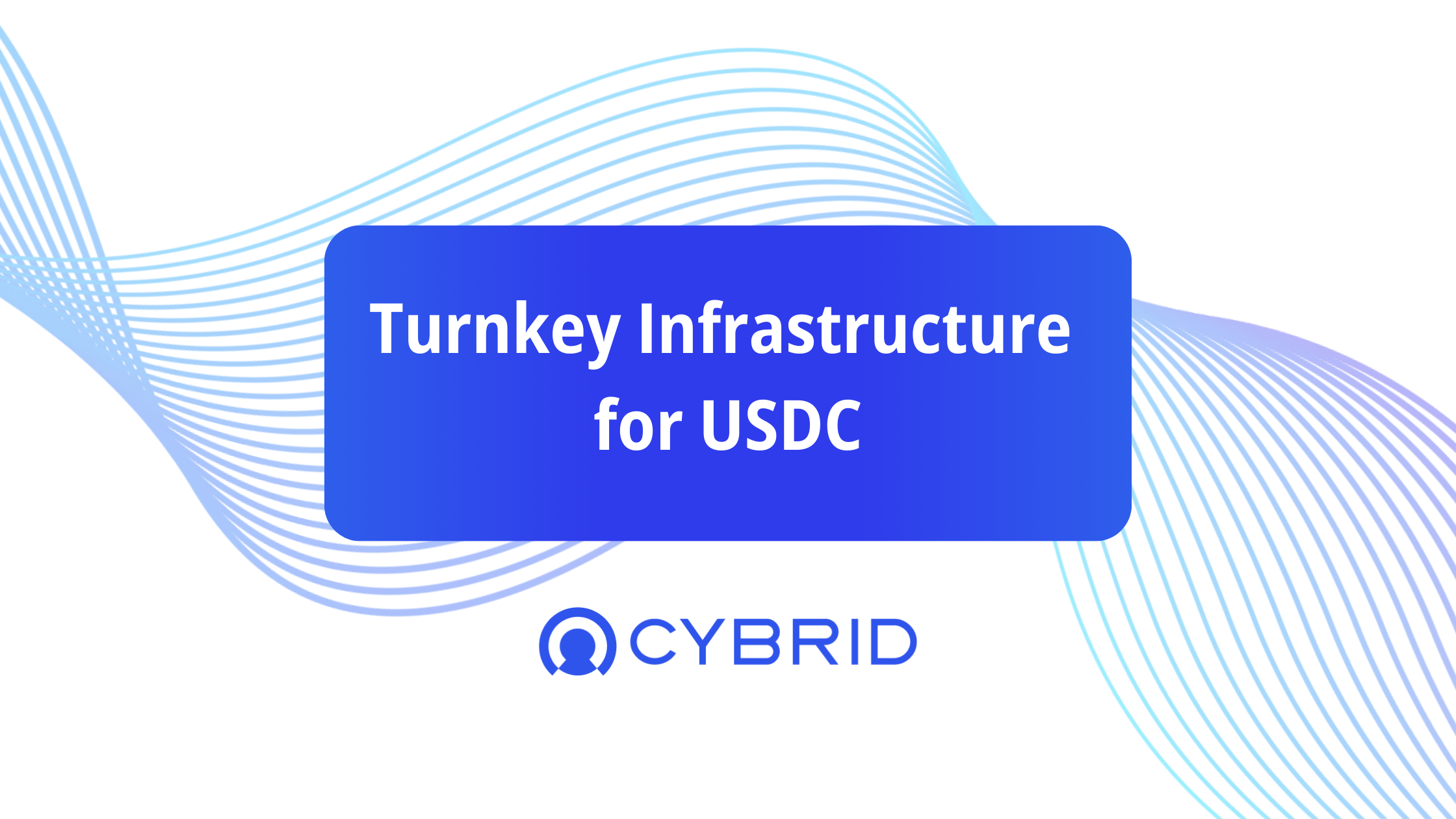 In today's fast-paced digital world, businesses are constantly seeking ways to streamline their operations and provide the best possible service to their clients. If you're new to USDC, you need to ask yourself "What can you do with USDC?". With the increasing popularity of USD Coin (USDC), a stablecoin pegged to the US dollar, businesses now have the opportunity to access instant USDC API payments, unlocking a world of possibilities.
Cybrid is at the forefront of this revolution, providing turnkey crypto infrastructure for businesses looking to leverage Circle USDC for their operations. Our platform is specifically designed to facilitate access to USDC in the United States and Canada, acting as a key driver for USDC's global growth.
Key Features of Cybrid's Platform
API Infrastructure: Our API infrastructure allows businesses to build customized payment solutions. We support both B2B2C and B2B2B models, ensuring that your business has the flexibility it needs to thrive.

Comprehensive Functionality: Our platform brings together essential components such as identity verification, banking, operations, crypto, and compliance, providing a holistic solution for your business needs.

Multi-Network Support: At Cybrid, we're proud to support the multi-network USDC ecosystem. Whether you're looking for native USDC Polygon PoS, Ethereum, Stellar, Solana, or more - we've got you covered. Check out our comparison of the most popular USDC networks.

USDC Use Cases
Buy USDC in Local Currency (USD or CAD): Easily purchase USDC in your local currency, which can then be sent abroad making for cost effective and fast remittance to family. Likewise USDC offers businesses the ability to pay cross-border invoices efficiently, saving time and money.

Sell USDC for Local Currency (USD or CAD): Convert your USDC holdings back to your local currency (e.g. USDC to USD), with the ability to deposit right back to your funding account. An end-to-end flow of funds experience streamlined by Cybrid's API platform. Seamless offramps make USDC the preferred stablecoin.
On/Off Ramps as a Service
Our platform provides on/off ramps as a service for various wallet configurations, ensuring that your business has the tools it needs to succeed.
Cybrid Built-in MPC Wallets: We've integrated industry-leading Multi-Party Computation (MPC) wallets that provide basic functionality required to operate with digital assets. This is perfect for payment use cases that require digital wallets for remittance and settlement purposes.

Wallet as a Service: If your business has built infrastructure using a third-party wallet provider, such as Gnosis Safe Wallet, you can use Cybrid as your on/off ramp. We provide individual wallets for deposit and withdrawal per end-user, ensuring an end-to-end flow of funds for KYC and AML compliance.

Circle's Programmable Wallets: We strive to provide the best indirect on/off ramp as a service (API and SDK) for Circle's programmable wallet infrastructure.Our platform offers a single solution for businesses building payments use cases, eliminating the need for multiple vendors to stitch together KYC, money movement, and crypto-friendly banking relationships.
Regardless of wallet setup, Cybrid is the ideal partner for businesses seeking to leverage USDC for their operations. Our comprehensive suite of tools and services, combined with our commitment to innovation, ensures that your business has everything it needs to successfully navigate the digital financial landscape. Empower your business with Cybrid and unlock the full potential of USDC use cases today!
Getting Started with Cybrid
Ready to unlock the full potential of USDC for your business? Getting started with Cybrid is a breeze. We understand that every business is unique, and we're here to provide you with a tailored solution that meets your specific needs.
For businesses looking to explore the possibilities of Cybrid's platform, we recommend booking a demonstration. Our team will walk you through the features and benefits of our platform, providing you with a firsthand look at how Cybrid can revolutionize your operations.
For developers eager to get their hands dirty, we invite you to jump into our sandbox environment. This is a great opportunity to test out our API infrastructure and see how it can be integrated into your applications. Our sandbox environment is designed to provide you with a safe and secure space to experiment and innovate, ensuring that you have all the tools you need to succeed.
Don't wait – get started with Cybrid today and harness the power of USDC for your business!